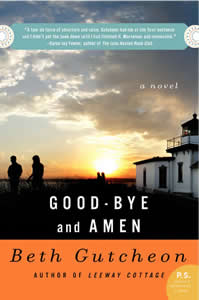 "Siblings, spouses, children and family friends chime in … constructing a bittersweet comic epic of relationships past and present … there is even a family photo album matter-of-factly inserted into the pages of the novel, a visual complement to Gutcheon's talent for creating fictional characters so convincingly real that we almost feel we could sit down with them and join in the bickering."
—Amanda Heller, The Boston Globe
"Gutcheon is a novelist with a poetic grasp of the language and a keen eye for the quirks and foibles that make us human."
—Jennifer Roolf Laster, San Antonio Express-News
Attention Book Clubs – see the review of Good-bye and Amen, and an interview with Beth Gutcheon at Book-Club-Queen.com.
In a summer cottage on the coast of Maine, an unlikely love was nurtured, a marriage endured, and a family survived. Now it is time for the children of that marriage to make peace with the wounds and the treasures left to them. And to sort out which is which.
Beth Gutcheon's critically acclaimed family saga, Leeway Cottage, was a major achievement; a vivid and moving tale of war and marriage and their consequences that enchanted readers. Good-Bye and Amen is the next chapter for the family of Leeway Cottage, the story of what happens when those most powerful people in any family drama, the parents, have left the stage.
The complicated marriage of the gifted Danish pianist, Laurus Moss, to the provincial American child of privilege,  Sydney Brant,  was a mystery to many who knew them, including their three children. Now Eleanor, Monica, and Jimmy Moss have to decide how to divide or share what Laurus and Sydney have left them without losing each other.  Secure and cheerful Eleanor, the eldest, wants little for herself but much for her children. Monica, the least-loved middle child, brings her childhood scars to the table, as well as the baggage of a difficult marriage to the charismatic Norman, who left a brilliant legal career, though not his ambition, to become an Episcopal priest. Youngest and best-loved Jimmy, who made a train wreck of his young adulthood, has returned from a long period of alienation from the family surprisingly intact, but extremely hard for his sisters to read.
Having lived through childhoods both materially blessed and emotionally difficult, with a father who could seem uninvolved and a mother who loved a good family game of "Let's you and him fight," the Mosses have formed strong adult bonds that none of them want to damage. But it's difficult to divide a beloved summer house three ways and keep it too. They all know what's at stake – in a world of atomized families, a house like Leeway Cottage can be the glue that keeps generations of cousins and grandchildren deeply connected to each other. But knowing it's important doesn't make it easy.