Beth Gutcheon is the author of some dozen studio-commissioned screenplays. As yet unnproduced scripts include an adaptation of Ethan Frome for Paramount Pictures, an adaptation of Domestic Pleasures for Sally Field, commissioned by MGM, an adaptation of Where or When by Anita Shreve, for Barbra Streisand's company at Tristar, and an adaptation of The Madness of a Seduced Woman by Susan Fromberg Schaeffer for Jaffilm at Sony Pictures.
Produced Films: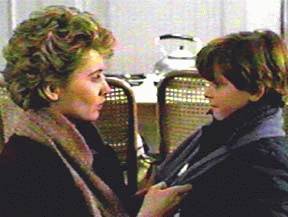 Without a Trace
Screenplay by Beth Gutcheon, based on her novel Still Missing. Starring Kate Nelligan, Judd Hirsch and David Dukes, it was produced and directed by Stanley Jaffe for 20th Century Fox in 1983.
The Good Fight
Starring Christine Lahti and Terry O'Quinn, screenplay by Beth Gutcheon. Originally written for and with Paul Newman, this is the story of a pair of litigators, long divorced from each other, working together to fight a case against big tobacco interests. Eventually filmed in Toronto for the Lifetime Cable network, in about half the expected time and for a tenth the original projected budget, it was directed by John Coles. It can still be seen on Lifetime with some regularity in spite of the fact that Goliath Tobacco has since been hobbled if not tackled, and is worth it if only because Terry O'Quinn makes an adorable Paul Newman.
The Children of Theatre Street
A feature-length documentary about the training of young Soviet dancers at the then Vagonava School in Leningrad for the famed Kirov ballet. Formerly The Royal School of Ballet, the school was the training ground of the great Soviet dancers best known in the west, Rudolf Nureyev, Mikhael Baryshnikov, and Alicia Makarova. This was a rare co-production of western and Soviet film professionals, produced by Earle Mack and directed by Robert Dornhelm with a narration by Beth Gutcheon. Nominated for an Academy Award, it is a film loved by balletomanes, although not a striking example of successful diplomacy, since the Soviets withdrew their support and cancelled a Moscow premiere when the American producers refused to alter a scene in which it is pointed out that students at the school were taught a history of dance that expunged all mention of the famous defectors. The narration is read by Princess Grace of Monaco.