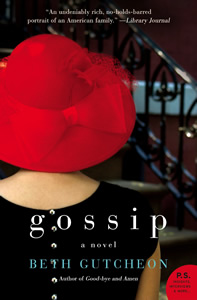 Now in Paperback!
The critically acclaimed author of Good-bye and Amen, Leeway Cottage, and More Than You Know returns with a sharply perceptive and emotionally resonant novel about all the ways we talk about one another, the sometimes fine line between showing concern and doing damage, and the difficulty of knowing the true obligations of friendship.
Loviah "Lovie" French owns a small, high-end dress shop on Manhattan's Upper East Side. Renowned for her taste, charm, and discretion, Lovie is the one to whom certain women turn when they need "just the thing" for key life events: baptisms and balls, weddings and funerals. Among those who depend on Lovie's sage advice are her two best friends since boarding school days: Dinah Wainwright and Avis Metcalf. Despite the love they share for their mutual friend, there has always been a chilly gulf between Dinah and Avis, the result of a perceived slight from decades ago that has unimaginably tragic echoes many years later.
An astute chronicler of all that makes us human, Beth Gutcheon delivers her most powerful and emotionally devastating novel to date. Gossip is a tale of intimacy and betrayal, trust and fidelity, friendship and motherhood that explores the way we use "information" — be it true, false, or imagined — to sustain, and occasionally destroy, one another.
Praise for Gossip
"A graceful and elegant novel that explores the unintended damage simmering hostility and sharing confidences can bring, Gossip builds to a stunning and devastating finish." — Booklist 
"A witty, sinuously engineered tale of female friendship." — The Telegraph
"An unpretentious tale of friendship among the well-heeled that is both a page-turner and day-brightener." — Kirkus Reviews
"The story follows a bucolic pace, allowing the reader time to digest the atmosphere so artfully created by Beth Gutcheon. However, the ending is like a slamming door, with a surprise that leaves the reader wondering, along with Lovie, if things would have been different under any other circumstances. […] Gossip delivers an intriguing and complex story. The characters are like comfortable houseguests, sticking around long after the last page is turned. It leaves one wondering about the futility of life, but gives a hope for the future and future friendships." — From One Globe
"The author deftly builds the story toward an emotional and tragic conclusion. […] Beth Gutcheon has created a devastating tale of how careless talk, envy and jealousy can destroy friendships and sometimes lives."  — Washington Independent Review of Books
Other covers:
U.S. Hardcover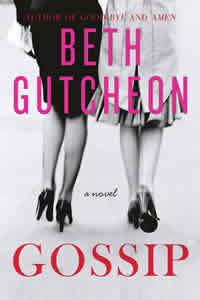 U.K. Paperback